The SJA group had wonderful visit the Aboriginal Catholic Ministry in Thornbury,  Tuesday, 21st June. Below is an account of the trip from our Lay Ecclesial Leader – Tiziana:
"On Tuesday, I joined a group of parishioners to visit the Aboriginal Catholic Ministry in Thornbury. We were warmly welcomed by Sherry Balcombe. Sherry's gift for story telling is obvious and proof that human connection is so important.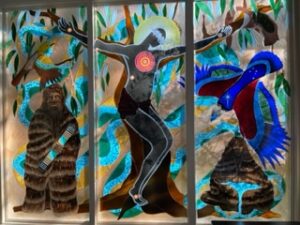 In the short time there, we learnt a lot about significant issues affecting our First Nation sisters and brothers, their deep spirituality and faith and how much they have to offer the broader community. It was plain to see that everyone who attended walked away enriched by the experience.
Our faith calls us to just action and to educate the community to end division and misunderstanding. This is what I intend to do, starting small with family and friends.
Sincere thanks to John Costa for organising the visit. I look forward to the next initiative of St Kevin's Social Justice Action.
Blessings, Tiziana"
To be apart of the SJA please visit the Social Justice Actions webpage here or contact John Costa via email
 johncosta@westnet.com.au
 or phone the parish office on 03 9850 5983.