Click on any of the Images below to View/Visit
Keep up to date with the Plenary Council progress and what Australia is doing to be heard.
Plenary Council 2021/22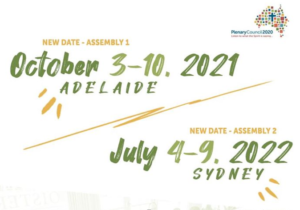 Masses at
St Kevin's Parish

Weekend Masses
Sunday – 8.30am & 10.00am
Weekday Masses
Tuesdays and Thursdays – 9.15am
Hand Sanitise upon entry and before Communion
Stay at Home / Get Tested

if you have any symptoms or if you are

a close contact of a Covid-19 case.
Baptisms are celebrated during weekend Masses
Adoration is held in the Church every Tuesday and Thursday morning @ 8.30am and Wednesday mornings @ 11.00am.
Our Parish Office is open from Tuesday to Friday, 9am to 4pm.
For all other times, please leave a message on our
parish phone: 9850-5983, or simply
send us an email directly using: templestowe@cam.org.au and we will get back to you.
Thanksgiving
We have a new and convenient way of contributing towards our parish thanksgiving:
While we continue to help those in our community, the parish continues to incur ongoing overhead costs and we need your help.
This site enables you to make quick and easy online thanksgiving payments – you can set-up a recurring payment, if you haven't done so already, or you can choose a one-off offering.
Envelopes
You may still contribute using your thanksgiving envelopes.
If you'd like to pay directly into our bank account, please call the office for our banking details.
St Kevin's Templestowe Memorial Wall