An introduction to St Kevin's Parish Social Justice Action and this webpage:
This brief video outlines the recently revived and previously active Parish Social Justice Group. It indicates what it does, how it endeavours to keep everyone well informed on social justice issues, and how you can comfortably become involved.  (3 minutes 15 seconds)
---

Parish Social Justice Action Online event
Asylum Seekers and a new Australian Government 
Recently Social Justice Sunday was observed and the  Brigidine Asylum Seeker's Project (BASP) Co-Founder, Sr Brigid Arthur AO csb, has kindly agreed to a St Kevin's SJA request for a timely update on the growing significance of Australian Asylum Seekers. This will be via an online event on Thursday 29th September from 7:30pm – 8:30pm. In the context of Catholic Social Justice thinking, and a new Government, the Forum will also include a Q&A session and be  made available to Parish School families,  our sisters and brothers at St Gregory's Parish and some other neighbouring parishes.
If social justice is important to you do mark this in your diary now,  and register via the online link below.
Further details are available HERE
Please use the link below to register 
---
"Keeping Koori kids in an education of their Choice"
This video from the 'Opening The Doors Foundation' (OTDF) provides an Overview of the great work of this Foundation over many years in helping Koori kids develop their interests and talents.  It is taken as linked to the ODTF website on 15 July 2022.
We thankfully acknowledge OTDF permission to link to this informative video https://www.openingthedoors.org.au/  (11 minutes 32 seconds)
Some Current Social Justice & Environment Issues
*What if China saved the world and nobody noticed?
Extract from  Opinion Piece, Nick O'Malley, Environment & Climate Editor, The Age, 20 August 2022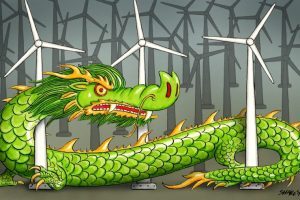 Climate activists and scientists the world over breathed deeply in relief this week when President Joe Biden signed into law the Inflation Reduction Act, as America's biggest-ever package of climate actions had been rebranded while it was wrestled forcefully through the Senate.      "It's law," said Biden at the White House on Tuesday. "This bill is the biggest step forward on climate ever."        And the scope of the package is extraordinary. Its various measures will channel $US370 billion ($535 billion) into programs that, if successful, will see the creation of 60 gigawatts of new renewable energy capacity a year, doubling the amount deployed last year.      But in focusing on the future plans of America, the world risks missing what is already going on in China, where a green revolution is already sweeping the economy…….
(MORE)
(Photo caption/credit: What if China saved the word – Illustration John Shakespeare, The Age, 20220820)
---
* Plenary Council officially endorses Uluru Statement from the Heart
Extract from Catholic Archdiocese of Melbourne, 5 July 20222
At the Second Assembly of the Plenary Council, members voted in favour of endorsing the Uluru Statement from the Heart. 
HERE
---
*Aboriginal Catholic Ministry for Victoria.
Extract from Sherry Balcome, Manager, Aboriginal Catholic Ministry Victoria (ACMV);
The website offers historical and present story of struggle and survival of a small group of Aboriginal Catholics. 
HERE
---
*Plenary Council backs action on ecology, Church governance reform
Extract from the ACBC, 7 July 2022
……..Members also voted on two motions in Part 8, Integral Ecology for the Sake of Our Common Home, with those two votes achieving a qualified majority in both the consultative and deliberative votes, therefore passing. The Council said ecological conversion is "both personal and communal", and that there was "urgent need for action" from Catholic entities through the development of, or alignment with, Laudato Si' Action Plans inspired by Pope Francis' encyclical letter of the same name. 
SOURCE
---
*Supporting parishioners with particular needs
Our second Committee member (at this stage) EmmI Raquel is currently working on this. Watch out for details. We welcome thoughts, suggestions and involvement in this regard, and will keep everyone informed.
---
*Refugees in need of welcoming support.
This parish has a long background in providing information on and supporting refugees, and a Parish family remains committed to a particular refugee family. With an influx of refugees there is much more we can do, and we know how to do it, however to make it viable we need people to express interest. We won't attempt what we can't do well.
---
Next SJA live Event
This will be an online presentation on the topic of refugees, including with a refugee. Currently being organised. Watch out for details.
---
*Other Issues' (see SJA Charter HERE)
---
Key Resources including Catholic Social Justice Statements
Social Justice Statement from ACBC  HERE
Social Justice Statement from Catholic Social Services  HERE
Social Justice Newsletter from Catholic Religious Australia (CRA) 
HERE
If you'd like any information or would like to join with us please use the contact Us link
Contact us 
HERE