All welcome to join in
Knitting & Crochet Group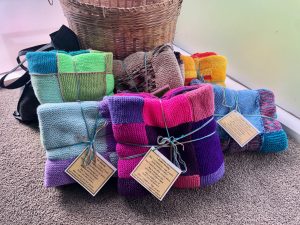 Every Tuesday from 1.00pm (come and go as you please over 2 hours)
Coffee and Tea (plus something sweet) provided
Wool provided (all blankets/squares made and donated to those in need)
Conversation, laughter and friendship – a bonus!
A year round project, knit from home and drop into the Parish house when the time is right!
Did you know our humble Knitting Group has donated more than 130 blankets over the past 2 years.
We've gifted to the following:
St Vincent De Paul
Exodus Community
Good Samaritan Inn (Women & Children escaping Domestic Violence)
Refugee Resource Centre
Philippines Community
St Kilda's Mums
Missionaries of Charity
Homeless
With your help, we may continue to keep supporting those in need…
Donations Please
Each year we run parish raffles to fundraise monies to buy wool, however we still need more!!!
If you have any Wool (8 ply preferred) we would greatly appreciate your donation or you may like to donate money for us to buy more wool.
Please contact us to drop your donations to the Parish - phone:9850 5983 or templestowe@cam.org.au
Or simply bring them along to the church.
Thank you, your donations are very appreciated.