Catholic priest and theologian Hans Kung, the renowned scholar and prolific writer who had lived with Parkinson's disease, macular degeneration and arthritis since 2013, died April 6 at his home in Tubingen, Germany. He was 93.
YOUNA RIVALLAIN_Saving the Planet Requires That we Rethink the way we Live out our Faith
An interview with a Catholic leader who promotes the pope's call for an "ecological conversion".
Remember, stay, rejoice: Praying the Triduum
The liturgies of the Easter Triduum are rich and evocative. Sr Anouska Robinson-Biggin FCJ identifies three invitations that we are called to respond to over these days, and offers an Ignatian guide to how we might answer those calls in prayer and action.
Read >>
The Way of Holy Week
The liturgies of Holy Week invite us to engage with the words, actions and experiences that constituted Jesus's way to the Father. Fr Tony Nye describes how, over the coming days, we will contemplate Jesus's journey through silence, symbols and scripture.
Read >>
The 14 Stations of the Cross have been modernised for today's world by Fr Tony Kelly CSsR, and are powerful mediations about Christ's Passion on Good Friday.
Fire destroys thousands of shelters in refugee campCaritas Australia is supporting Church and non-government organisations in Bangladesh, after a massive fire swept through a Rohingya refugee camp on Monday, destroying shelters, health centres and other facilities.
Discover a rich list of articles from most recent to archived.

Some wonderful articles from CatholicCare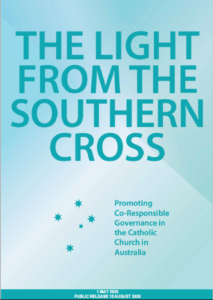 Catholic leaders publish report on Church governance
The Australian Catholic Bishops Conference and Catholic Religious Australia have recently published an "important and substantial" document on the review of diocesan and parish governance and management in Australia.
The review was recommended by the Royal Commission into Institutional Responses to Child Sexual Abuse.
The Church's Implementation Advisory Group (IAG) oversaw the development of the report, The Light from the Southern Cross: Promoting Co-responsible Governance in the Catholic Church in Australia. The IAG engaged the Governance Review Project Team (GRPT) to research and study Church governance and to prepare the 208-page report, which includes 86 recommendations.
"The Light from the Southern Cross makes an important and substantial contribution to the life and mission of the Church in Australia, and the bishops and leaders of religious institutes thank those responsible for its preparation and delivery," Bishops Conference president Archbishop Mark Coleridge said.
Did You Know???
Each week we place a variety of articles we think you may find of interest onto our website.
Such articles (found on our Interesting Articles page) are often sourced from LaCroix International – a paid subscription. In support and to say "thank you" to La Croix, you might consider subscribing directly to them and discover a whole range of wonderful reading material. NOT just religious; but cultural, environmental, political and educational, just to name a few; La Croix offers a variety of topics to discover. Why not consider supporting those that support us. Great as a gift idea for that someone who has everything.
Quicklinks
For more articles and up to date news please visit these websites

:

CathNews, the most frequently visited Catholic website in Australia, is your daily news service featuring Catholics and Catholicism from home and around the world, Mass on Demand and on line, prayer, meditation, reflections, opinion, and reviews. And, what's more – it's free!

Eureka Street

aims to participate in public discussion and influence public opinion regarding the things that matter in Australia and the world.