Courtesy is often found wanting in the many exchanges we make in the marketplace of our society, be it in politics, sport, the media or the general to-and-fro that arises when we attempt to live in community.
An exclusive interview with the woman
theologian
(
Agnès Desmazières)
who is helping coordinate the synodal process.
What does it mean to be Catholic?
In a series of virtual lectures entitled "The Catholic Contribution", Professor John Haldane, one of the world's pre-eminent thinkers in moral philosophy and education, will explore the development of Roman Catholicism and its contribution culturally, historically and philosophically to the understanding of human nature. On Thursday he delivered his introductory lecture and explained what it means to believe in 'one, holy, catholic and apostolic church'. Click the play button below and catch up on the first lecture.
Quicklinks –

For more articles and up to date news please visit these websites:

Articles form our local Victoria

CathNews, the most frequently visited Catholic website in Australia, is your daily news service featuring Catholics and Catholicism from home and around the world, Mass on Demand and on line, prayer, meditation, reflections, opinion, and reviews. And, what's more – it's free!

Eureka Street

aims to participate in public discussion and influence public opinion regarding the things that matter in Australia and the world.
Did You Know???
Each week we place a variety of articles we think you may find of interest onto our website.
Such articles (found on our Interesting Articles page) are often sourced from LaCroix International – a paid subscription. In support and to say "thank you" to La Croix, you might consider subscribing directly to them and discover a whole range of wonderful reading material. NOT just religious; but cultural, environmental, political and educational, just to name a few; La Croix offers a variety of topics to discover. Why not consider supporting those that support us. Great as a gift idea for that someone who has everything.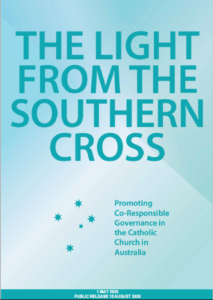 Catholic leaders publish report on Church governance
The Australian Catholic Bishops Conference and Catholic Religious Australia have recently published an "important and substantial" document on the review of diocesan and parish governance and management in Australia.
The review was recommended by the Royal Commission into Institutional Responses to Child Sexual Abuse.
The Church's Implementation Advisory Group (IAG) oversaw the development of the report, The Light from the Southern Cross: Promoting Co-responsible Governance in the Catholic Church in Australia. The IAG engaged the Governance Review Project Team (GRPT) to research and study Church governance and to prepare the 208-page report, which includes 86 recommendations.
"The Light from the Southern Cross makes an important and substantial contribution to the life and mission of the Church in Australia, and the bishops and leaders of religious institutes thank those responsible for its preparation and delivery," Bishops Conference president Archbishop Mark Coleridge said.