As the photo-montage suggests, the inaugural Parish 'Men's Social Group' on a wintry Friday evening -12th August, was very much enjoyed by those attending.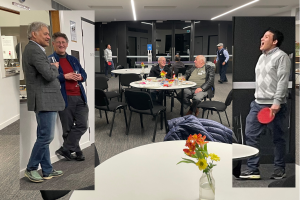 While first night numbers as seen wasn't high  (the photographer adds one more), those attending will very likely help spread a good word  to other men of all ages across the Parish and school communities, and friends outside the Parish, about the convivial and relaxed evening, the well earned 'Friday drinks' after a busy week, enjoyable supper, and atmosphere.
The thoughtfully arranged room setting and hospitality all contributed, in the process revealing some previously hidden table-tennis talent, a resident  spring-roll and  chilli-sauce Master Chef, and relaxed enjoyable conversation.
The not-too-loud football background with occasional Bunnings Ads provided  further ambience.    
Thanks to Tiziana for establishing the group and for initial set up of the hospitality, with support from Tony Robinson and the Parish Pastoral Council.  The hot pizza, spring rolls and other nibbles didn't go astray and left little for clearing up afterwards by participants.
During the next Men's Night event on 
9th Septembe
r John Costa will very briefly share some photographs from his recent trip deep into Arnhem Land, Kakadu & Darwin.