Christian Meditation
Christian Meditation is practised here at St Kevin's Parish every Wednesday morning
@ 9.30am, with our Co-Ordinator, Lydia Dyhn.
All are welcome to join us.
If you would like to take part, but prefer not to physically, we also have a live, online option.
For further information or for any queries in general, please contact Lydia directly
on 0411 191 485
or via email on lydia@calmalifestyle.com.au
Another alternative is through WCCMA (The World Community for Christian Meditation Australia) which has a fantastic resource of online meditation sessions you can join in with. Please take a look using this link:
WCCMA online meditation sessions
"Christian meditation is a form of contemplative prayer in which a structured attempt is made to become aware of and reflect upon the revelations of God." Wikipedia
Gentle Hands

are going through COVID-19 in even more difficult circumstances than we can imagine.
Gentle Hands

Orphanage is a very special charity St Kevin's endorses.

Charity Graff, Executive Director, and her staff are among the most dedicated people
to
wards the abandoned and abused children of the Philippines. The orphanage has been running since 1993.
With love and faith, Gentle Hands gives children hope, a safe place and possible future.
After 540 days of strict quarantine during this pandemic,
(with no visitors at all) we were quite shocked to find
our home positive for COVID.
I wasn't expecting COVID. We have been so strict, so careful, so diligent. And I think we were all devastated- on top of being very sick- so much sacrifice and work seemed to be for nothing.
An already tired staff has had to work around the clock caring for the fevers, coughs, and aching bodies
of our precious children that we had been trying to protect for more than 15 months.
And then exhausted, nurse each other.
But as we locked down- cocooned once again- we continued to see God's hand move…
quietly but with comfort and strength.
We intended to handle this alone but things went a different way… and my worries and fears
have been washed away in the goodness of God and the generosity and concern of people.
Delicious meals have been dropped off, fruit and vegetables, diapers and alcohol, medicine,
and things that we have needed have been miraculously provided by people we don't even know.
Visit this link to see how you can help Gentle Hands Orphange and help make a difference in the lives of these vulnerable children.
Every Wednesday at 1.00pm
A year round project, knit from home and drop into the Parish house when the time is right!
Donations of wool, Knitting needles, crochet hooks and sewing needles are always very much appreciated.
Food Bank
If you know of anyone who requires a pre-cooked & prepared home cooked meal due to sickness, hospitalisation, or hardships of any kind, please contact the Parish House on 9850 5983.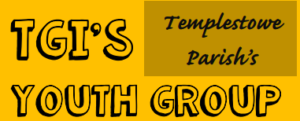 ALL TGI'S CANCELLED UNTIL FURTHER NOTICE
Youth: Grades 5-8
Monthly
Third Saturday 6.45-8.45pm
Teens: Grade 8-12 Monthly
Second Sunday 4.30-7.30pm
St Kevin's Templestowe "TGI's (Thank God's It's) Youth Group.
During School terms, St Kevin's Parish hosts a monthly social evening held in our Gathering Space here at St Kevin's Parish for our school aged youth. Each event is run by our Youth Minister and parish volunteers for an evening of food, activities and social interaction.
For our Youth in grades 5 through to grade 8, the evening is filled with games and fun held every third Saturday evening after mass (6.45-8.45pm)
For our older kids we have TGI's Teens for Grades 8-12. The Teens meet monthly on the second Sunday from 4.30-7.30pm for fun social activities and outreach opportunities.
We ask for a small donation of $5 per attendee towards catering and expenses.
For more information please email
tgiyg17@gmail.com
or visit our TGI's page on this website during school term.