Message from our Ecclesial Lay Leader – Gerry Lewis
What Now? Where to Next?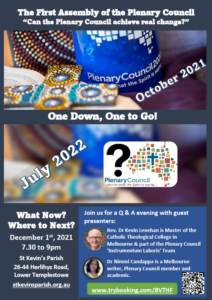 The First Assembly of the Plenary Council is done – Can the Plenary Council Achieve Real Change?
The First (of two) Plenary Council Sessions has now taken place. We await the second assembly to be held in July 2022.
Until then – we ponder :What happened during the first assembly" and "Where to Now", "Can the Plenary Council achieve real change?"
December 1st, 2021
7.30 to 9pm
St Kevin's Parish Catholic Church
26-44 Herlihys Road, Lower Templestowe
Join with us at St Kevin's Parish in Templestowe, where we will be discussing these very questions with 2 very special guest speakers: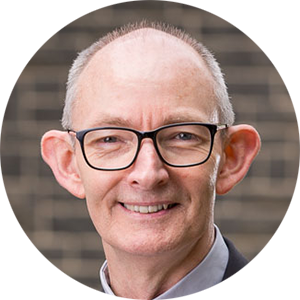 Rev. Dr Kevin Lenehan Master of the Catholic Theological College in Melbourne and part of the 'Instrumentum Laboris' Team;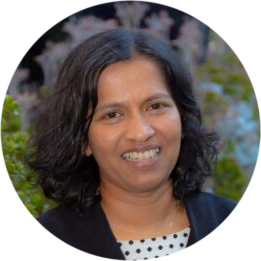 D
r Nimmi Candappa a Melbourne writer, Plenary Council member an
d academic.

Catholic bishops endorse Uluru Statement from the Heart
MEDIA RELEASE November 22, 2021
Australia's Catholic bishops, on the recommendation of their key Aboriginal and Torres Strait
Islander advisers, have endorsed the Uluru Statement from the Heart.
The Australian Catholic Bishops Conference made the decision as it gathered online for its
biannual meeting earlier this month.
The bishops' consideration of the matter was informed by the words of St John Paul II, who in a
visit to Alice Springs in 1986 said to Aboriginal and Torres Strait Islander peoples: "Your culture,
which shows the lasting genius and dignity of your race, must not be allowed to disappear… Your
songs, your stories, your paintings, your dances, your languages, must never be lost."
St Kevin's Very Brave Mum – Margaret Harris is shaving her head to help beat Blood Cancer.
Help support Margaret by donating to the World's Greatest Shave for the Leukaemia Foundation.
Every day another 47 Australians are diagnosed with a blood cancer. That's one Aussie every 31 minutes. Although research is improving survival, sadly an Australian loses their life to blood cancer every two hours.
Will you help by sponsoring Margaret?
St Kevin's Christmas Blanket Raffle
Our hard working ladies have been busy crocheting and knitting all year long to help those in need.
Let's support them by buying raffle tickets to be fortunate to own one of their lovingly handcrafted bespoke blankets.
With 4 to win – what have you got to loose!
Buy 1 ticket for $2 or 3 tickets for $5
Winners will be drawn at all masses on the weekend of 18th/19th December, thank you for supporting our lovely group.
All proceeds go towards buying more supplies for the knitting group.
Is it YOU we've been looking for?
St Kevin's Parish, Lower Templestowe; is seeking to employ a Full-time 'Lay Ecclesiastical Leader'
We are a proud parish, led by its unshakeable faith and active parishioners; and now looking for a Lay Ecclesiastical Leader (LEL) to join with us.
The LEL will undertake to lead the parish community, participate in the building of community, and lead in the functions of teaching, sanctifying, and governing.
St Gregory the Great &
St Kevin's parishes
A Christmas Picnic
and a visit from Santa Claus
Sunday, 19th December at 6pm
on the St Gregory's school oval

Donate Today!




Click below to make a difference now
Our appeal to you:
Each year, we make our annual Ephpheta Appeal where donations go a long way to helping us improve our service to the community.
We do not receive any government funding so your gift will be a lifeline that ensures JPC's Pastoral Care and Family Support Service can instantly reach even the most isolated Deaf people.
All donations will be gratefully received – donations of $2.00 or more are tax deductible.
Letter to the People and Clergy of Melbourne
Archbishop Comensoli has written a letter for your attention regarding the proposed new legislation, the Equal Opportunity (Religious Exceptions) Amendment Bill 2021 from the State Government, which will impact on all faith-based organisations in Victoria.
The Archbishop encourages you to share this message widely in the hope that we can have a say and make a difference.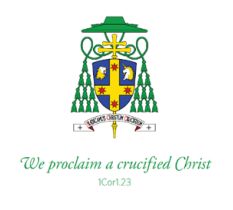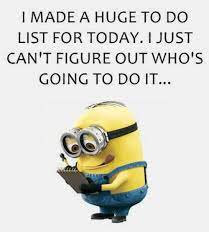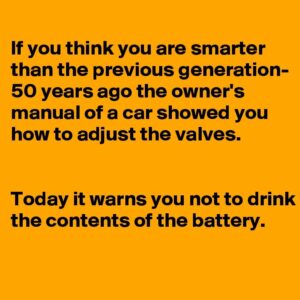 The Sacrament of Reconciliation is currently available in two ways:
1. Come early for any Mass or stay after and check with the Priest
2. Call the office and make an appointment with