Fr Charles 70th Birthday
Please join us in celebrating Fr Charles 70th Birthday
Kick starting with a 5pm mass at St Gregory the Great, Doncaster
and celebrating on with party food, drinks and of course cake!
Attendance sheets are in the church, please let us know you are coming to the party for catering purposes.
All Welcome – we look forward to having you join us.
Where: St Gregory the Great –

71 Williamsons Road, Doncaster
Times: Mass 5pm &

Party -6pm onwards (Parish Hall)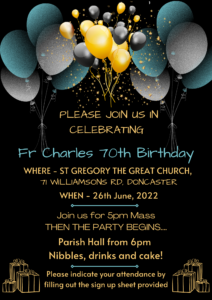 St Kevin's
Social Justice Action –

Get onboard!
The SJA group had wonderful visit the Aboriginal Catholic Ministry in Thornbury, Tuesday, 21st June. Below is an account of the trip from our Lay Ecclesial Leader – Tiziana: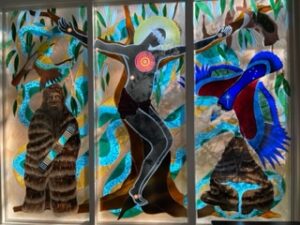 "On Tuesday, I joined a group of parishioners to visit the Aboriginal Catholic Ministry in Thornbury. We were warmly welcomed by Sherry Balcombe. Sherry's gift for story telling is obvious and proof that human connection is so important.
In the short time there, we learnt a lot about significant issues affecting our First Nation sisters and brothers, their deep spirituality and faith and how much they have to offer the broader community. It was plain to see that everyone who attended walked away enriched by the experience.
Our faith calls us to just action and to educate the community to end division and misunderstanding. This is what I intend to do, starting small with family and friends.
Sincere thanks to John Costa for organising the visit. I look forward to the next initiative of St Kevin's Social Justice Action.

Blessings, Tiziana"
To be apart of the SJA please contact John Costa via email
johncosta@westnet.com.au or phone the parish office on 03 9850 5983.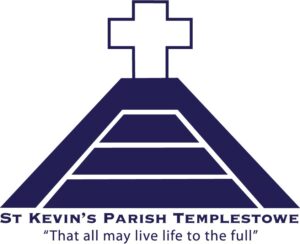 Parish Survey
Where Are You?
We Miss You!
To assist us in understanding where our parishioners are, and why they have not yet returned to mass, ST Kevin's is circulating a Parish survey to find out. Perhaps a little direct, but to the point, our survey will help us discover ways to encourage parishioners back, to reassure them and encourage them, so that their confidence in attending Mass returns and they may enjoy in the unity of St Kevin's community once again.
For those of you attending mass, you'll find paper versions of the survey in the Gathering Space. We please request you take a few of these and pass onto those folk you know of who are not present, but used to attend mass before COVID. (We also request you pick these up on our behalf and then bring the filled-out survey back.)
Thank you all for your help and honesty, together we can increas
e our welcoming Christ filled community, with many hands to do God's work.
Synod of Bishops 2021 – 2023
June 2022
Our local Church in Melbourne has brought together a Report in response to Pope Francis' invitation for the universal Church to reflect upon: For a Synodal Church: Communion, Participation and Mission; the theme of the 16th Ordinary General Assembly of the Synod of Bishops which will take place on October 2023.
The Report will now take its part in a combined national report, which will be sent to the General Secretariat for the Synod of Bishops to be considered alongside contributions from other parts of the Church around the world.
Please be encouraged to read the voices from our people, and the introductory message from Archbishop Peter.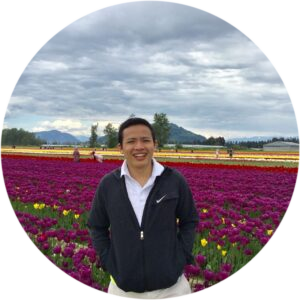 Welcome Jude Nguyen
St Kevin's is very excited to welcome 4th year Seminarian 'Jude (Tuong) Nguyen' who will be with us until the end of 2022.
Jude tells us a little about himself….
"While everyone in the religious community knows me as Jude, my real name is Tuong Nguyen. I am originally from DakLak, Viet Nam.
Born on October 1, 1989, I am the fourth of six children in our family, I finished Junior and Senior High School in Ho Chi Minh City in 2008. My discernment for priesthood began at a very young age of twelve. In 2009 just after high school, I entered the Congregation of Saint John the Baptist in the Philippines to study for priesthood. During the same period I pursued a University degree and took up Bachelor of Science in Agriculture, major in Animal Science. After completing my Bachelor's Degree, I received 2 years of noviciate, and a year of temporary profession.
In 2015, the Congregation sent me to Vancouver, Canada to continue my study of Philosophy at the Seminary of Christ the King where I finished in 2018. After discerning and praying in the monastery for several years, God's calling had never been stronger and I feel that serving in the diocesan is my life's purpose.
A vocation for the archdiocese of Melbourne will allow me to channel my passion to serve and my commitment for the community. Through much prayer and many adventures as I journey down this path, I pray that God continues to guide me. I ask for your prayers as well!"
Jude, you have our prayers and the community of St Kevin's welcome you with open hearts.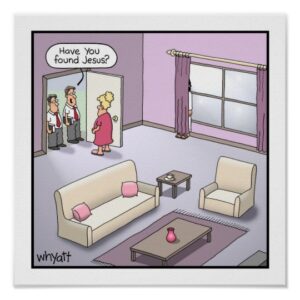 We're Catholic, we never lost Him!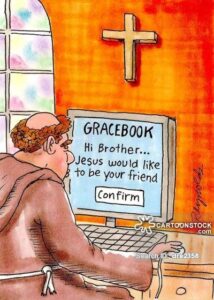 Fr Charles is available for anyone seeking the Sacrament of Reconciliation every Saturday morning from 9-10am at St Gregory the Great Church in Doncaster.
Alternatively, if you arrive early before any Mass,
Fr Charles is available for this Sacrament from 30 minutes before Mass, or after Mass.
If another priest is presiding then approach and request the Sacrament: it is up to that priest to decide.
Another way would be to c
all the office and make an appointment with
Fr Charles.