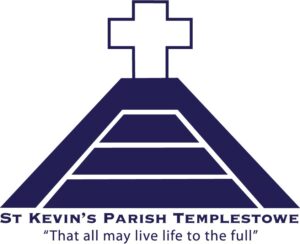 A Memorial Mass will be held on
the 22
nd
of April 2021 at 7.30pm.
in particular those who have lost loved
ones in the last 12 months.
As a compassionate people, we are encouraged to come together on this important night in support of all who are grieving the death of a loved one.
At this Mass, we shall also bless the plaques on our memorial wall.
For further information, please contact Lyn Murphy on 9857 4437 or 0419 897582.
Memorial Book:
If you wish to have a relative or friend inscribed in this precious book, please fill out a form from the table in the Gathering Space and leave them as they will be collected and entered into this book. Thank you.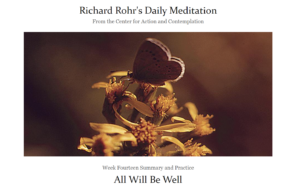 Richard Rohr's Daily Meditations
Richard Rohr's Daily Meditations are free email reflections sent every day of the year. Each meditation features Richard Rohr and guest authors reflecting on a yearly theme, with each week building on previous topics—but you can join at any time!
Our theme this year is A Time of Unveiling. Despite the uncertainty and disorder, our present moment is a great opportunity to awaken to deeper transformation, love, and hope. Amid the widespread need for healing, reality offers us an invitation to depth—to discover what is lasting and what matters

.

The National Count of Attendance will again be conducted over the first four consecutive Sundays and Saturday evenings in May this year. The National Count is conducted in the same year as the Australian Census (to be held on 10 August 2021).
This year, parishes will also be asked to provide estimates of age and sex of those who attend Mass and Sunday assemblies.
Further information will be provided to the Archdiocesan Office from the ACBC National Centre for Pastoral Research in the coming weeks. Once received, this information will be emailed to parishes.
Please find attached background information in the attached flyer.
Holy Thursday
If

you missed our Holy Thursday service, you missed a magnificent Homily from

Fr Brian Traynor; who has very kindly allowed us to share in written format. Enjoy!
We Have A Response
After two enthusiastic and successful gatherings from our committed St Kevin's Community on 'What Happens Next when Fr Gerry Retires'; we have a response letter from Archbishop Peter Comensoli.
Lay Ecclesial Leader Proposal
Over the past fifty years St Kevin's has built up a strong and faithful, if relatively small, community of the People of God. This sense of community, with strong liturgical, outreach and mutual support programs, is highly valued by the parishioners, as evidenced in the parish meetings on 10/11th February 2021.
We are well aware that the Melbourne archdiocese is facing a major crisis arising from the shortage of priests, and understand that larger, more dispersed parishes should have priority in the allocation of the few priests available. The proposal outlined below has been developed in the hope of maintaining the pioneering spirit and community 'feel' of this parish and in the belief that it is our baptismal responsibility to actively contribute to the life of the Church.
It is also suggested as offering the Archdiocese a way of trialing an alternative approach to managing the shortage of priests, one that has been used extensively in a number of other countries. For the USA, for example, Georgetown University's Centre for Applied Research in the Apostolate reports that, in 2019, 341 parishes in the USA were administered by deacons or lay people.
The key features of our proposal are as follows:

1. Lay leader. It is proposed the Archdiocese would appoint, in consultation with the parish, a
suitably qualified and experienced lay person to coordinate pastoral case within the parish, and to
manage the activities of the parish subject to the oversight of the moderator of pastoral care.

2. Moderator of pastoral care. The Archdiocese would appoint a priest as moderator of pastoral care. This
priest would have the powers and functions of a priest, but not be the parish priest of St Kevin's. He
would provide oversight and mentoring to the lay ecclesial leader.

3. A panel of retired priests. The parish would identify a panel of retired priests who agree to say Mass and
to provide other priestly services to St Kevin's on an occasional but continuing basis.

4. Preserving the role of priest and laity. It is envisaged that the lay leader would be appointed under the
current provisions of Canon Law (can. 517 §2). The parish recognises the need to respect the
appropriate roles of priests and laity as there defined.

5. Filling the position. It is proposed that the position of lay ecclesial leader would be filled by the
Archdiocese, in close consultation with the parish, by a process of external advertisement. The lay leader
would be required have relevant training and experience, for example in theological or pastoral studies
and as a pastoral associate.

6. Paid position and funding. The position would be a paid one, at a level commensurate with the
responsibilities. As a result of the foresight of its founders, the generosity of the faithful and careful
management by successive generations of leaders, St Kevin's has resources available to meet this cost.

7. Three year pilot program. This approach is proposed as a three year pilot, to give time for both the
Archdiocese and the parish to assess its effectiveness.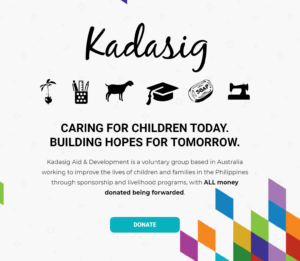 Kadasig Autumn 2021 Newsletter
Slowly we are all emerging out of the COVID lockdowns and restrictions. Like the majority of voluntary organizations, our fundraising had to be cancelled. It is only now, 12 months on, that we can look to commence again. Please help us and join in the fun.
Fundraising Event – Vietnamese Dinner
Please come along and support our first event of 2021 on

Sunday 18th April at 5pm in Bundoora.

We are in need of funds so we can provide assistance for our families after such a difficult 2020.

There is more information in the flyer below.

Please advise us of dietary requirements.
Contact Glenys 0411196395 or marketing@kadasigaid.com.au
Stay informed on the latest international news, get stories
straight from the field and come behind the scenes at Caritas Australia.
URGENT RESPONSE TO PNG COVID-19 CRISIS
A COVID-19 crisis is unfolding in Papua New Guinea, one of our nearest Pacific neighbours, with nearly 6000 cases reported since early March.
Read More
We've launched our new storytelling project:
Shifting The Story
For decades, Australia's refugee narrative has demonised, alienated, and homogenised our experiences and identities. This has been exacerbated by COVID:
refugees are some of the hardest hit by the pandemic, but were excluded from critical support like Job Seeker and Job Keeper, and are left out of the conversation on national recovery.
But the crisis has another side.
Because of the pandemic, we've had the opportunity to reimagine what's possible. Conversations about universal basic income, decarceration and inequality have come to the fore: creating new visions of our future.
Within this context,
Shifting the Story
gives six storytellers of refugee backgrounds an opportunity to articulate their experiences of COVID-19 and imagine what a post-pandemic world could look like.
These stories invite us to connect with people who've sought asylum as you've rarely heard us:
in our own words, and on our own terms.
Watch the first story we're releasing below,
and then share with your networks!
Leo Holt's

Funeral recording
If you were unable to attend Leo's funeral, please use the link provided to view a recording of our dear Parishioners' farewell.
Viewing time approx: 1hour
To Vaccinate or Not to Vaccinate
You may be "sitting on the fence" about whether to be vaccinated against the Covid 19 virus or not.
If you're wondering what the views of the Catholic Church are, please click on this link below to find a letter from the Archbishop of Melbourne, Peter Comensoli.