All Masses Cancelled until Further Notice
as of Wednesday 18 March 2020
The Prime Minister announced that non-essential indoor gatherings will be limited to 100 people, and outdoor events of more than 500 people will be disallowed, effective today. Given the seriousness of COVID-19, we support this measure as being responsible and sensible, and we encourage everyone to follow public safety guidelines respectfully.
The Bishops of the Province of Victoria have given this prayerful and considered reflection, and have determined the following actions:

Immediate suspension of public liturgies, celebrations of the Mass, until further notice.
 All other gatherings are suspended. For clarification of any concerns, please contact your local diocesan authority.
We are very aware that this restriction will be particularly difficult for families who are planning liturgies such as funerals, weddings and baptisms. At this time, so long as appropriate precautions are able to be put in place (such as distancing between participants), it may be possible for these liturgies to proceed with a carefully limited congregation. Deferring these liturgies may also be an option that is offered to families.
In light of this,
all Catholics in Victoria are dispensed from their Sunday obligation until further notice (canon 1248)
. We encourage you to continue active participation in the life of the Church, through activities such as time in personal and family prayer, reflecting on the Scriptures, making a spiritual communion, or participating in a Mass online: ie
"How Pope Francis & Others are attempting to change the Catholic Church"
We had a huge response and audience to hear Br Mark O'Connor. For those of you who could not attend, we offer the next best thing – his PowerPoint presentation. Definitely not the same thing, but worth a look.
Guest Speakers:
Br Mark O'Connor FMS
(Vicar for Communications and the Editor of 'Catholic Outlook' in the Diocese of Parramatta. He is also the Pope Francis Fellow at Newman College, University of Melbourne). Recently, Br Mark was the Press Observer at the Amazon Synod in Rome, October 2019; and is advisor to Bishop Vincent Long.
The Drop In lunch
Our latest drop-in lunch and get together was held early December and was a huge success.
Over 55 aged care residents and community gathered to celebrate the year in style. Bringing together friends & community we gathered first with an anointing mass and then dined over a spectacular home cooked lunch including delicious dessert and Christmas cake! Our Parish helpers were amazing and the cooking out of this world. Our St Kevin's children choir finished the afternoon off with a lovely performance & beautiful voices.
Thank you to all involved, from cooking, cleaning, serving and transport; you are all truly cherished.
Plenary

Council 2020 journey – Phase 2 -Let's Listen & Discern Workshops
St Kevin's Phase 2 workshops were successfully held in November 2019
Phase 2 is all about ACTION: Let us come together for our Church & make a difference.
Last year, as a Parish, we successfully came together and work shopped Phase 1 – "What do you think God is asking of us in Australia at this time?" Australian wide submissions resulted in 6 themes; established as focus areas to encourage the Bishops to discuss and make decisions for the Catholic Church of Australia.
Now we have Phase 2 – "How is God calling us to be a Christ-centred Church in Australia that is…" Writing groups have been established for each of the 6 themes and it's now our turn to assist them on the 'How' – the practical suggestions moving forward on how as a Church- the steps we take to achieving our 'what'.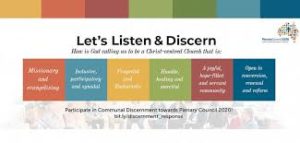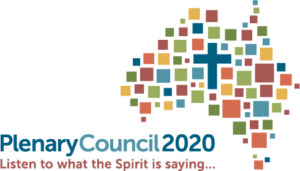 Fr Gerry along with Jan and Peter Sheehan meet with Bishop Vincent Long
Last week, Fr Gerry together with Jan and Peter Sheehan visited Bishop Vincent Long in Parramatta for a one-one meeting. The purpose of this visit was to encourage Bishop Vincent on his endeavour of Church reform and to encourage his ongoing leadership and courage. During the meeting, Vincent had with him the our 'Joint Parish Statement' – He immediately congratulated and thanked us! "This is beautifully written", he said.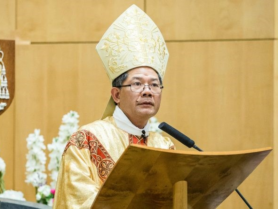 Thank you to all our Parish Volunteers
On the weekend of September 15th 2019, we celebrated and thanked our very generous and many volunteers of St Kevin's Parish. Our volunteers administer a variety of ministries for our immediate Parish and those in our community. We thank them all from the bottom of our hearts for their commitment to St Kevin's and their missionary work towards others. They are wonderful people walking in the footsteps of Christ.
You can download and view our PowerPoint presentation
here
.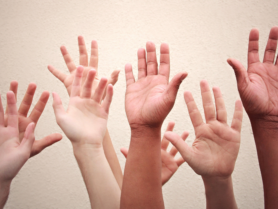 St Kevin's Environmental Group
COFFEE DRINKERS!
We all love that cup of coffee, especially if we are out and on the run, getting coffee in a take away form is so easy.
But those cups we get our coffee in are becoming one of the greatest bits of waste that we just discard.
Instead:
Use reusable cups such as keep cups, when you are out and want that cup of coffee to take away.
Keep a reusable cup with you.