OPENING SONG
"LOVE CHANGES EVERYTHING"
30TH Sunday in ordinary time
"On these two commandments hang the whole Law, and the Prophets also".
So Jesus declares as the conflict between him and the Jewish authorities intensifies day by day.
With good reason we could say that this twofold command – to love God with all our might and to love our neighbour as ourselves – is Jesus' last will and testament, soon to be embodied in bread and wine.
In the Sermon on the Mount placed much earlier in the gospel, Jesus had summed up the Law and the Prophets somewhat differently: " . . . always treat others as you would like them to treat you".
This formula, known as the Golden Rule, is to be found in many religious traditions and their scriptures.
Some would say it is a universal principle that offers humanity its best hope for the future.
Jesus does not invent these pithy sayings.
They were already embedded in his own Jewish tradition as well as in others.
The originality of Jesus lies in two things: the personal testimony of his own unconditional love of God and neighbour, and the revelation that in him the infinite love of God has taken flesh and dwelt among us. Love knows no bounds.
PENITENTIAL RITE
You are our rock, fortress and deliverer; Lord have mercy.
You call on us to have a real relationship with God our Father; Christ have mercy.
You call on us to love our neighbour as another self; Lord have mercy.
OPENING PRAYER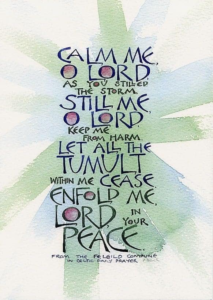 1st READING
Exodus 22/ 20-26 –
To be part of God's people means we are to act with love of our neighbour. This means acting with care, justice and gentleness.
RESPONSORIAL HYMN
"UBI CARITAS"
INTRODUCTION TO GOSPEL HYMN
"PRAISE TO YOU O CHRIST OUR SAVIOUR"
GOSPEL
READING
Matthew 22/34-40
Two simple, demanding sentences.
We are not alone, we live in God's world.
who has created and is creating,
to reconcile and make new,
who woks in us and others
We are called to be the Church:
to celebrate God's presence,
to love and serve others,
to seek justice and resist evil,
to proclaim Jesus, crucified and risen,
In life, in death, in life beyond death,
Introduction:
To apply again the heavy, practical demands of today's all-too-familiar Gospel requires wisdom and awareness.
Let us pray:
Response:
Lord, let your wisdom be with us to guide us.
Lord, open us to the practical demands of today's Gospel.
R
May your spirit lead us out of solitude to act decisively.
R
Be the cornerstone of all that we do in making a healthier, most just world. R
Recently, the Melbourne Church suffered the loss of two giants of our Church (Maria George and
Garry Eastman). Show your gratitude Lord – grant peace and consolation to their families and friends.
R
For what else or for whom else do we pray?
………………….
…………………………..R
OUR FATHER
(BOCELLI VERSION)
CLOSING PRAYER
O God thank you for your gift of healing.
May you breathe easily in our lives.
May our lives help to bandage our aching world.
May we wait patiently for the unfolding of your will.
May we be soothed by your grace.
SOME FURTHER THOUGHTS FOR YOU TO PONDER…
Why would Jesus' answer have been challenging to the Pharisees?

How might loving God with all your heart, soul and mind affect the way you live your life?

In your local situation, who are the 'neighbours' not loved as we love ourselves?

What actions can you take to better love your neighbour as you love yourself?
FINAL HYMN
"A NEW COMMANDMENT"
FINAL GIFT
Sometimes dogs can demonstrate human love (courage too!)