Easing of Restrictions – Step 2
Our Church remains closed except for Funerals where up to 10 attendees are permitted. Outdoor Ceremonies are also permitted, including Weddings and Baptisms, for up to five people.
Our Parish Office is closed, h
owever I am at home and available to take your calls via our parish telephone number (9850 5983), my mobile (0409 192 588) or you can send me an email directly using: GerardMcKernan@hotmail.com
Please don't forget to keep in contact with each other and to stay safe.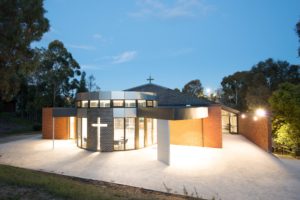 You are invited to attend a series of Advent preparation sessions –
Finding Christ in a COVID Christmas
– being offered by the
Proclaim: Office for Mission Renewal
.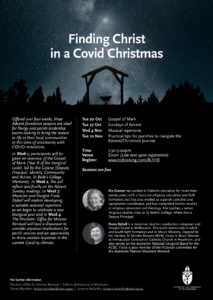 Beginning on Thursday 20th October 2020 and offered over four weeks, these Advent formation sessions are ideal for liturgy and parish leadership teams looking to bring the season to life in their local communities in this time of uncertainty with COVID restrictions.
In the first two weeks, guest speaker Ria Greene will offer an overview of the Gospel of Mark (Year B of the liturgical cycle) and the Advent readings.
In the third week, musician and liturgist Fiona Dyball will explore developing a suitable seasonal repertoire as we begin to celebrate a new liturgical year.
In the final session the Proclaim: Office for Mission Renewal will explore the practical implications for parish services in the current Covid-19 climate.
These sessions will all be held virtually via zoom and the attached flyer has further details of the speakers, session times and registration (please note there is no charge to attend but prior registration is essential).
We look forward to journeying with you in Advent preparations.
Well…
Another week goes past. We didn't get the freedoms from restrictions we wanted, but we have dodged a bullet and got the cases down from 8,000 to negligible, and to that extent we are the envy of most countries in the world.
Hopefully, at the start of November, we shall have outside groups of 20, which will allow small numbers to come to Eucharist. If this is the case, what do you think of our having two weekday morning Masses (eg Tuesdays and Fridays) and say a Thursday twilight Mass (7pm?) What if it rains? We'll need umbrellas! When we eventually arrive at 50 or more, we can look at weekend Masses.
Other good news for Victoria is that we mightn't have the staging of the Grand Finals,

but

we are the sports stars of Australia! Congratulations to the Vixens, the AFL Grand Final winners

and

of course Melbourne Storm who will win on Sunday night! For a unique way of reporting on Tigers' games, please scroll down further. While on sport – we are remembering 20 years ago, the very moving Sydney Para Olympic games.
We are used to animals having intelligence. Here at St Kevin's we are inclined to think so do some inanimate objects eg lawn mowers. Casual passers by will notice how well our grass/weeds are flourishing this Spring. Our mower has broken down (probably only temporarily). Can it be that it knows it will be working harder than usual? "Mysteries" to be pondered!
Have you signed the petition to the Victorian Legislative Assembly to better promote a healthy lifestyle? Covid and other viruses remind us that a multi-pronged attack is the only way. Please keep scrolling down to see how to sign it.
What has been happening with "senseofthefaithful"? Well, lots! Please look at our latest newsletter.
Pope Francis has sent forth a new encyclical. It is hard hitting and therefore will draw some
opposition
. If you have the opportunity it's well worth a read. You will note that it is also in the Sense of the Faithful latest newsletter as above. If you do wish to read it in its entirety – click here to read in full-"Fratelli Tutti" – by us presenting a number of these
commentaries
/summaries, these will give you insights into the encyclical.
You may then be sufficiently inspired to want to join, thereby further opening up the encyclical.
This past week has seen the deaths of two great campaigners for Church reform – Garry Eastman and
Maria George. Both had a deep love and commitment to the Church. Melbourne has lost two giants of the faith. St Kevin's offers our prayers and sympathy to both grieving families (maybe their dedicated work for renewal will now have an effect).
Let us remember and continue to pray for Jan Dalton.
Urgent Prophetic Task: "Speak truth in a society that lives in illusion" – Walter Brueggeman.

Essential ingredient in Covid 19 vaccine: "DNA from Cyril Rioli's moustache – because nobody can catch Cyril" – John Silvester.

"Each day, we have to decide whether to be Good Samaritans or indifferent bystanders" – Pope Francis, Fratelli Tutti.

For returning golfers: "They say golf is like life, but don't believe them. Golf is far more complicated than that" – Gardner Dickinson.

Don't listen to Trump or Alan Jones – Covid 19

Short History of Governance of Catholic Church

Some great sayings from Mothers

Pope Francis pushes new boundaries and expresses support for same-sex civil unions
Online Safety for Grandparents and Carers
The eSafety Commissioner has recently published a free e-book resource 'Online safety for grandparents and carers' which provides advice about online safety issues that children and young people may experience. This resource provides "key advice about online safety issues that can affect children and young people" including practical tips to help grandparents and carers to talk about these issues with children and young people and manage them. Helpful topics include: setting up devices safely; managing time online; preventing unsafe contact from strangers as well as a guide to some of the most popular sites and apps.
Grandparents and carers can order a hard copy or download and view the resource online:
Don't forget to keep scrolling down to read our "Dill Moment"
– guaranteed to put a smile on your dial!
Have you checked out our "Children's and Family Page" section yet? In it, amongst other wonderful things, you will find some beautiful Gospel Reflections from our thoughtful St Kevin's students. Well done children!
Thanksgiving
During this time, when visits to our Church are suspended, we are striving to ensure that our parishioners remain connected through new and creative pastoral programs. While we continue to help those in our community the parish continues to incur ongoing overhead costs and we need your help.
2

nd Collection
For Those Doing It Tough!
Please give if you can to help those in our local community in need during COVID times.
S
imply type into notes "2nd Collection" to make sure your donation goes to our local community who are experiencing financial hardship right now.
Meanwhile, our roses (as you can see) are flourishing
– ready for the running of the 100th Cox Plate and the Melbourne Cup!
It's strange how quickly you forget
A person's name that you've just met
And if perchance you meet again
You stutter, mutter and rack your brain
To salute this friendly person with her proper name
Oh! What's her name I am in despair
I'll try this once and call her Claire
But then again that's rather chancy
She could be Rita, Belle or Nancy
But suppose her name, not one of these
I'll take a chance and greet her with Louise
So as I join her near the gate
To the winds of chance I'll trust my fate
And with my face abashed and red
I turn to her and simply said "How ya going mate"
She gazed at me, looked somewhat startled
Her eyes of blue they simply sparkled
And in a voice demure and low
Said surely sir, you must know
Oh, can you not, but recollect
That yesterday you called me Pet.
A True story – specially for our die hard Melbourne Footy Fans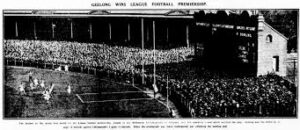 The following came from a comment by Michael Doyle, past principal of Clonard.
'Another Pigeon story. In the late 1920s only one game was broadcast live on radio. My grandfather, Jack Doyle senior, born 1888, and a seriously wounded Gallipoli veteran, was an ardent Tiger supporter. On game days he would travel by Tramways Bus from North Kew to Johnston St Collingwood, then change buses to the Hoddle St service to attend games at the Punt Rd oval. In his kit bag he would hold four carrier pigeons to send scores home to my father Jack Doyle Jnr, a lad of very junior years. Progressive scores from the match would be sent home via carrier pigeon at quarter time, half time, three quarter time and the final score. A true story and one venerated by generations of Tiger supporters within our family.'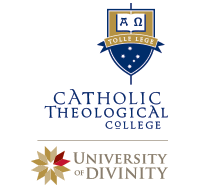 Catholic Theological College
2020 Knox Public Lecture
Thursday 5th November at 7.00pm
Sheree Limbrick
Safe Church: Commitment, awareness &
action for cultural change

Understanding and responding to grief
Grief is a natural response to loss or change, whether it be the loss of a loved one, the breakdown of a relationship, or the loss of
something that has been meaningful or important in our lives.
On October 10 we celebrated World Mental Health Day, bringing light to
mental health issues including anxiety and depression. But like these, grief is another th
ing many of us will experience throughout our lifetime.
While everyone grieves differently, healthy grief is about finding ways
to remember our loved one or that which we have lost, and adjusting to life without them.
Learn about grief and how you can support yourself or a loved
one below.
Madonna magazine –
spirituality in daily life
Madonna magazine, published by Jesuit Communications, has accompanied Australians in their daily prayer and spiritual growth for more than 120 years. With daily prayers, deep reflections, faith-focused articles and more recently online retreats – it is an ideal spiritual companion, particularly now when we may not be able to freely gather in person with our faith and spirituality communities.
If you are not a subscriber – we invite you to subscribe or consider taking out a gift subscription for a loved one.
An annual subscription is just $53 and offers prayer and spirituality resources for the whole year.
If you are a subscriber, we invite you to help keep Madonna alive by:
recommending it to family and friends,

buying a gift subscription or two. or

donating one to someone on the margins
Madonna magazine – a gift of spiritual sustenance that lasts a whole year.
Sadly, not all in our community are able to access digital platforms and the elderly, particularly those in aged care, are among those who feel the isolation and inaccessibility of 'the usual' rituals most acutely.
The magazine is ideal for personal reflection or to use in pastoral outreach in parishes or community groups and can be a useful resource to supplement other measures to connect with your parishioners – during the current pandemic and beyond.
"Come on Victoria – let's boost our immune"
COVID-19, is just the latest and sadly seems to be the most dangerous, of infections we are all dealing with in our modern times.
Remember the term
"
prevention is the best cure
"?
Our very own parishioner

'Jane O'Brien' is petitioning for just that – prevention.
Having a passion for a healthy life and boosting one's immune system to prevent illness,
Jane needs our help

to
convince the Victorian Government to invest in a public health program that educates people about what they can do to boost their immune system – to in turn help reduce their risk of contracting Covid-19.
In a world where community is fearful, wouldn't it be great to
help people feel empowered about their health
and
in turn assist in keeping those around them healthy too.
Be a part of the solution and click on this link to sign the petition.
Knitting/Crochet Group update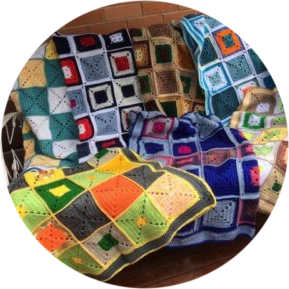 Lockdown has meant (what seems like) endless hours of time on our hands; so what to do …..Create Blankets!
That's right, during lockdown, our very enthusiastic Craft Group have been keeping themselves busy crocheting, knitting, and sewing together massive amounts of wool squares to create beautiful, bespoke blankets for those in need.
Our latest contribution has been left in the amazing hands of the Missionaries of Charity, who are giving them to East Timor who are in great need.
In the past year, we have donated bulk amounts to 'The Good Samaritan Inn -A Women's Shelter escaping Domestic Violence'; St Vincent De Paul; Missionaries of Charity towards homeless Men in Melbourne; and the Refugee resource centre.
These larger donations are on top of our gifting of blessed blankets to those in our community going through challenging times and to the homeless in our own immediate areas.
Thank you to all those involved and to everyone else, why not begin a new hobby and get those needles out!
Celebrating the 10th anniversary of Saint Mary MacKillop's canonisation
Saturday 17 October 2020 marks the 10th anniversary of Saint Mary MacKillop's canonisation at Saint Peter's Basilica in Rome, declaring her Australia's first canonised saint. Pope Benedict XVI addressed tens of thousands gathered in St Peter's Square. About 9000 Australians travelled to celebrate this occasion.
For Catholic, Christian and secular Australians, it was a meaningful moment, celebrating the values at the heart of what it means to be Australian, as well as her witness to the sacred in everyday life. Ten years on, the Sisters of Saint Joseph invite the Australian community to take this opportunity to reflect on what the canonisation of Saint Mary MacKillop meant to Australians then, and what it means to us now.
To celebrate the 10th anniversary of the canonisation of Saint Mary MacKillop and the wonderful life and legacy she left behind, the Sisters of Saint Joseph of the Sacred Heart are pleased to remember her with commemorative prayers, videos, and a global vigil in her honour.
When my husband and I arrived at the garage to pick up our car after a service, we were told the keys had been locked in it.
We went to the service department and found a mechanic working feverishly to unlock the driver's side door.
As I watched from the passenger side, I instinctively tried the door handle and discovered that it was unlocked.
'Hey,' I announced to the mechanic, 'it's open!'
His reply, 'I know. I already did that side'.
STAY ALERT! They walk among us.