Thanks for the way St Kevin's people are looking after/out for each other. This is a time to take stock of our own priorities.These first days have been strange. If you need someone to phone you, or do some shopping, please call the Parish House 9850 5983 as we have had several kind offers of support and help.
Thank you to all of you already keeping in contact with others. Your reaching out and connecting keeps our community as family. Keep up the excellent work!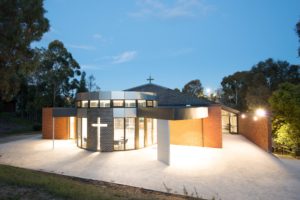 God The Father, The Son & The Holy Spirit
We are working to help you through our Social Media.
This may not be your habitual mode of communication, but without it, we miss out on a lot of uplifting messages.
Please give it a try- our website, FaceBook and email.
If we do not have your email address, please email it to us to: templestowe@cam.org.au or click the direct links (left)
Message from Deacon Jim Curtain, Diocesan Director of Caritas Australia, about the Project Compassion 2020 Appeal.
We here at Caritas understand that many in our community will have financial concerns, worries about health, and worries about their future due to the COVID19 crisis. We do appreciate that many generous people who would normally give may no longer be in a position to do so. However through Project Compassion we support people and communities in countries that have nothing like the resources of Australia, where governments do not have the ability to provide social welfare payments or subsidise employers to keep people in work. Bearing in mind the uncertainty that we are all experiencing, we would still ask that, if you are able, you consider continuing to support Project Compassion as best you can.
Thank you for your generosity in the past, and for whatever you feel able to give now.
Good News Story
We welcomed Win Wilson this week into our Catholic and St Kevin's Community
Because of the love and care Win experienced at Mercy Place (Aged Care Residence next door to us); Win requested that she be welcomed into the Catholic Church. Previously Presbyterian, and on the feast of the Annunciation, with a short ceremony and prayers, Win was welcomed into the St Kevin's community. Due to the restrictions at the moment, Win's ever supportive and loving family were able to be witness to her joyous day via live streaming and video – thanks to the wonderful staff of Mercy Place.
Congratulations Win