Information
Awareness of our Surrounding World
Gentle Hands

are going through COVID-19 in even more difficult circumstances than we can imagine.
Gentle Hands

Orphanage is a very special charity St Kevin's endorses.

Charity Graff, Executive Director, and her staff are among the most dedicated people
to
wards the abandoned and abused children of the Philippines. The orphanage has been running since 1993.
With love and faith, Gentle Hands gives children hope, a safe place and possible future.
After 540 days of strict quarantine during this pandemic,
(with no visitors at all) we were quite shocked to find
our home positive for COVID.
I wasn't expecting COVID. We have been so strict, so careful, so diligent. And I think we were all devastated- on top of being very sick- so much sacrifice and work seemed to be for nothing.
An already tired staff has had to work around the clock caring for the fevers, coughs, and aching bodies
of our precious children that we had been trying to protect for more than 15 months.
And then exhausted, nurse each other.
But as we locked down- cocooned once again- we continued to see God's hand move…
quietly but with comfort and strength.
We intended to handle this alone but things went a different way… and my worries and fears
have been washed away in the goodness of God and the generosity and concern of people.
Delicious meals have been dropped off, fruit and vegetables, diapers and alcohol, medicine,
and things that we have needed have been miraculously provided by people we don't even know.
Visit this link to see how you can help Gentle Hands Orphange and help make a difference in the lives of these vulnerable children.
LOYO Elementary –

Our new Sister Community in the Philippines
Our St Kevin's community is proud to learn more of our new sister Community so that we can understand their needs and better assist them. To do this we've sponsored one of our dedicated teachers- Fulvia Gerolisimo – who has embarked on a missionary trip to the Philippines to experience first hand our newly sponsored community of 'LOYO'.
An update in April 2021 showed us the progress of an undercover shelter being built for the school children; to seek refuge from the weather and become a multi-purpose area for the school.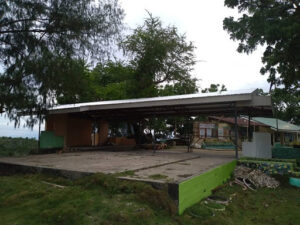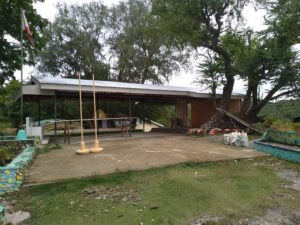 June 2021 update
The Undercover Shelter is Complete
The shelter at our friendship school in the Philippines is now completed! Marwen shared the final photos of the completion of the shelter and it looks amazing! We have indeed all shown how we can STEP UP and BE MORE where needed for those less fortunate than ourselves. Thank You!
Ma'am Fe Belyn (the Principal of Loyo Elementary ) – wrote a short message to us all:
'Our hearts are filled with so much happiness. Thank you so much
St Kevin PS – our friendship school in Australia and to all the people who contributed to make this dream project a reality. To God be the Glory!'
Fulvia Gerosolimo
(Social Justice Coordinator)
St Kevin's Catholic Primary School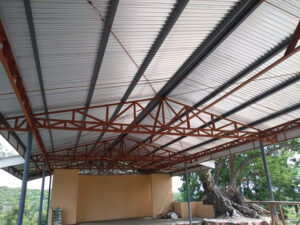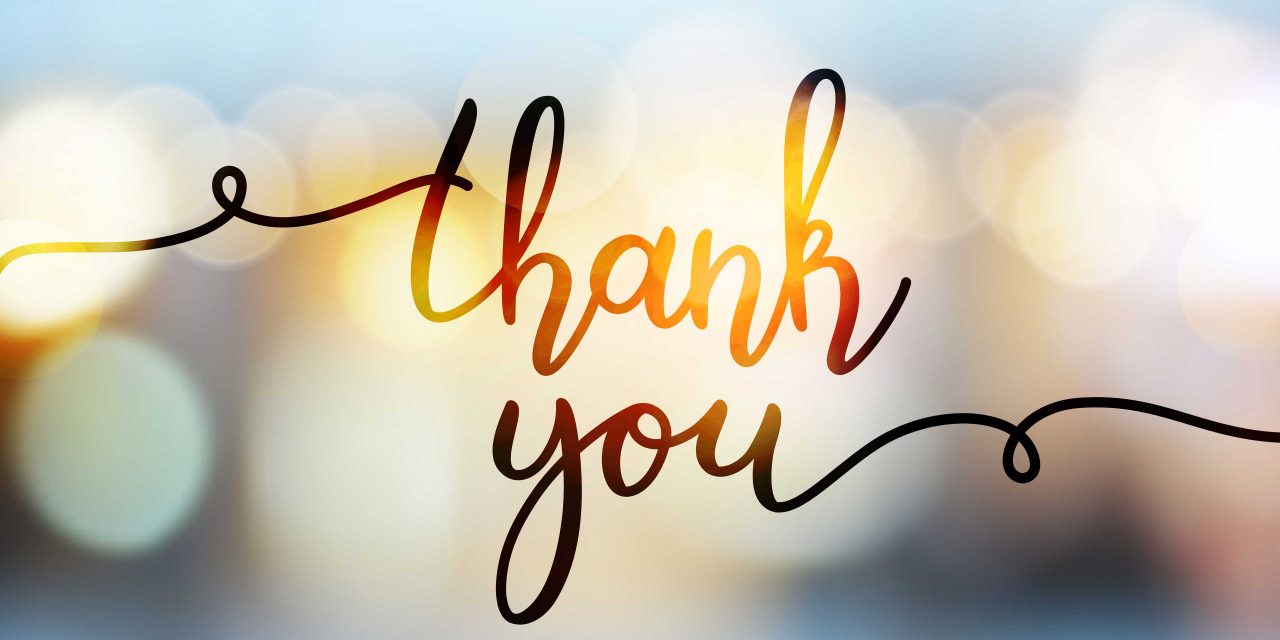 to all who contributed towards our recent food drive. Through our St Kevin's community, we were able to donate:
– small tins of tuna
– small tins of sardines
– tins of Spam ham
These foods will assist the families to add a little protein to their meal once they mix it with rice.
A little protein in their diet is better than none at all.
Our Term Three Social Justice focus has always been to support our friendship school in the Philippines. Although the majority of Term Three was in lockdown
our school families and parish community were still very generous in donating so many cans of tuna, spam and sardines. These items were all boxed and collected on the last day of the school term. We hope these arrive well before Christmas for the families to enjoy and of course to nourish their bodies.
Included in this box are also 15 chess sets which we purchased for the children at Loyo elementary to enjoy during their lunch break. Thank you to Anni Miers for your kind suggestion.
St Kevin's school community also donated $250 so that 50 families can receive a kilo of pork.
The donations were sent to Loyo via our friends at Kadasig (see below) who sent us this message:

It is wonderful to see the generosity of St Kevin's community. It really is fantastic. I was talking to Emely (from Loyo) the other night and she was saying how they love these tins of seafood. She said they would never go and buy something like them. She said their sardines 'stink'!! She said ours are supreme and so good. Also, our friends love having something sent by their friends in Australia.
Love the chess sets, they will be magnificent. They sure do like playing chess–they have competitions also.
Thank you sincerely for all that you and your community do.
Cheers, Glenys Gayfer (Kadasig President and Livelihood Co-Ordinator)
Kadasig means
strength and unity in the Philippines and strength and unity is exactly what Kadasig Aid and Development is all about.
Kadasig is a voluntary group based in Australia which works to support the lives of children and families in the Philippines. At the same time, the inspiring team of Filipinos in the Kadasig centre in Cebu City and in Barilli work hard to ensure Kadasig's goal of creating a better future for children is sustained. Both the Australian and Filipino teams work together to empower children and families to create a brighter future through the many programs they facilitate. Kadasig strives to provide a 'hand up' not a 'hand out.'
Kadasig's committee, based in Australia, is made up of a number of members with a wide range of skills and knowledge. The committee is passionate about changing lives for the better through education and sustainable livelihood programs. All committee members are volunteers, ensuring that all donations are forwarded to the programs in the Philippines.
Read their latest newsletter here:
Patupat Community Pantry
St Kevin's Parish and primary school have been supporting our friends -the Patupat Community in the Philippines for a few years now and their progress, with the assistance of our fundraising, has helped them to support themselves. Their latest success story has been to create a Community Pantry.
The first Community Pantry was held in Patupat last weekend and was a great success with 102 families taking part. All participants had to register, have their temperature checked and wash their hands. They had a good range of items and they bought some tins of sardines and eggs with the seed funding provided by the St Kevin's Parish community. Our Co-ordinator, Emely Alcoseba, is planning to do these once a month in a number of areas so as to reach out to as many families as possible. It is planned that they will take place until December 2021.