During the school and church closures, please feel free to download and use these weekly worksheets with your children at home.
Please click below to Download/Print/View
Worksheets with the Gospel
Throughout the school terms, our Parish schools give us an insight into how the children understand each week's Gospel reading. Enjoy with us, understanding Christ through the innocence of our children.
St Kevin's Class
Grade 4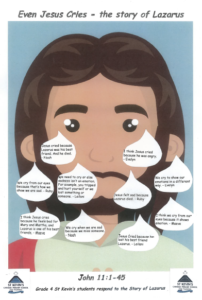 John 11:1-45
"I am the Resurrection and the life"
A reading from the holy Gospel according to Joh
n
The sisters Martha and Mary sent this message to Jesus, 'Lord, the man you love is ill.' On receiving the message, Jesus said, 'This sickness will end not in death but in God's glory, and through it the Son of God will be glorified.'
Jesus loved Martha and her sister and Lazarus, yet when he heard that Lazarus was ill he stayed where he was for two more days before saying to the disciples, 'Let us go to Judaea.'
On arriving, Jesus found that Lazarus had been in the tomb for four days already. When Martha heard that Jesus had come she went to meet him. Mary remained sitting in the house. Martha said to Jesus, 'If you had been here, my brother would not have died, but I know that even now, whatever you ask of God, he will grant you.' 'Your brother' said Jesus to her 'will rise again.' Martha said, 'I know he will rise again at the resurrection on the last day.' Jesus said:
'I am the resurrection and the life.
If anyone believes in me, even though he dies he will live,
and whoever lives and believes in me will never die.
Do you believe this?' 'Yes, Lord,' she said 'I believe that you are the Christ, the Son of God, the one who was to come into this world.' Jesus said in great distress, with a sigh that came straight from the heart, 'Where have you put him?' They said, 'See how much he loved him!' But there were some who remarked, 'He opened the eyes of the blind man, could he not have prevented this man's death?' Still sighing, Jesus reached the tomb: it was a cave with a stone to close the opening. Jesus said, 'Take the stone away.' Martha said to him, 'Lord, by now he will smell; this is the fourth day.' Jesus replied, 'Have I not told you that if you believe you will see the glory of God?' So they took away the stone. Then Jesus lifted up his eyes and said:
'Father, I thank you for hearing my prayer.
I knew indeed that you always hear me, but I speak for the sake of all these who stand round me, so that they may believe it was you who sent me.'
When he had said this, he cried in a loud voice, 'Lazarus, here! Come out!' The dead man came out, his feet and hands bound with bands of stuff and a cloth round his face. Jesus said to them, 'Unbind him, let him go free.'
Many of the Jews who had come to visit Mary and had seen what he did believed in him.
Looking for this weekend's gospel topics to discuss at home with the family?
Perhaps this link below may help…..
We have our juniors back at school and next week our middles and
Here is a great article that a teacher from St Kevin's Primary found that might help you with some tips of what to expect and prepare for with the children returning to school.
It's really well worth a read.
So some formal classroom lessons have been cancelled, and students have missed weeks of education. Many people are concerned about students falling behind because of this. Yes, they may fall behind when it comes to classroom education…
What if instead of falling "behind", this group of kids are ADVANCED because of this?
What if they have more empathy, they enjoy family connection, they can be more creative and entertain themselves, they love to read, they love to express themselves in writing.
What if they enjoy the simple things, like their own back garden and sitting near a window in the quiet.
What if they notice the birds and the dates the different flowers emerge, and the calming renewal of a gentle rain shower?
What if this generation are the ones to learn to cook, organise their space, do their laundry and keep a well run home?
What if they learn to stretch a dollar and to live with less?
What if they learn to plan shopping trips and meals at home?
What if they learn the value of eating together as a family and finding the good to share in the small delights of the everyday?
What if they are the ones to place great value on our teaches and educational professionals, librarians, public servants and the previously invisible essential support workers like truck drivers, grocers, cashiers, custodians, logistics and health care workers and their supporting staff, just to name a few of the millions taking care of us right now while we are sheltered in place?
What if among these children, a great leader emerges who had the benefit of a slower pace and a simpler life to truly learn what really matters in this life?
Contributed by Filbert Bacus.