Throughout the school terms, our Parish schools give us an insight into how the children understand each weeks Gospel reading. Enjoy with us, understanding Christ through the innocence of our children.
Term 4 of 2019 we hear from our children at St Charles Catholic Primary School and their understanding and thoughts on the Gospel each week.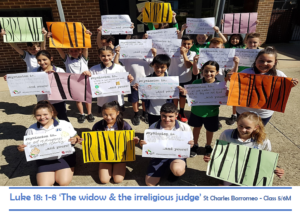 St Charles Class 5/6M
Luke 18: 1-8
The Widow and the irreligious Judge
Please see below in the 'Past Gospel Reflections' to view some recent past Children's reflections.
Weekly worksheets for kids
Past Gospel reflections
Please click to Download to Print/View