During this time of restrictions, please feel
free to download and use these weekly
worksheets with your children at home.
Please click below to Download/Print/View
Worksheets with the Gospel
July
Junior worksheets
July
August
Windows
Is an uplifting story of how humanity has pulled together during the Coronavirus pandemic.
Written from Patrick's own experience of having to leave the family home due to his son's Duchenne Muscular Dystrophy, Windows shows how five kids from different parts of the world connect and draw strength from their communities from behind the safety of their own windows.
Heartwarming, hopeful and surprisingly funny, Windows will resonate with families all over the world and become a valuable time capsule of what life was like in 2020.
Looking for this weekend's Gospel topics to discuss at home with the family?
Perhaps this link below may help…..
Throughout the school terms, our Parish schools give us an insight into how the children understand each week's Gospel reading. Enjoy with us, understanding Christ through the innocence of our children.
St Kevin's Grade 5/6 Class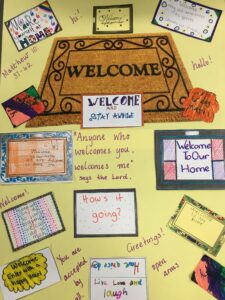 Gospel
Matthew 10: 37-42
Anyone who does not accept his cross is not worthy of me. Anyone who welcomes you, welcomes me.
Jesus instructed the Twelve as follows: 'Anyone who prefers father or mother to me is not worthy of me. Anyone who prefers son or daughter to me is not worthy of me. Anyone who does not take his cross and follow in my footsteps is not worthy of me. Anyone who finds his life will lose it; anyone who loses his life for my sake will find it.
'Anyone who welcomes you welcomes me; and those who welcome me welcome the one who sent me.
'Anyone who welcomes a prophet because he is a prophet will have a prophet's reward; and anyone who welcomes a holy man because he is a holy man will have a holy man's reward.
'If anyone gives so much as a cup of cold water to one of these little ones because he is a disciple, then I tell you solemnly, he will most certainly not lose his reward.'