During this time of restrictions, please feel
free to download and use these weekly
worksheets with your children at home.
Please click below to Download/Print/View
Worksheets with the Gospel
October
November
Junior worksheets
October
November
Children's Gospel Reflection
Throughout the school terms, our Parish schools give us an insight into how the children understand each weeks Gospel reading. Enjoy with us, understanding Christ through the innocence of our children.
and their understanding and thoughts on the Gospel each week.
St Kevin's Class
Junior D/Prep 1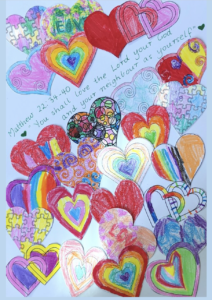 Gospel
Matthew 22: 34 to 40
A reading from the holy Gospel according to Matthew
You shall love the Lord your God and your neighbour as yourself.
When the Pharisees heard that Jesus had silenced the Sadducees they got together and, to disconcert him, one of them put a question, 'Master, which is the greatest commandment of the law?'
Jesus said, 'You must love the Lord your God with all your heart, with all your soul, and with all your mind.
This is the greatest and the first commandment.
The second resembles it: you must love your neighbour as yourself. On these two commandments hang the whole Law, and the Prophets also.'
The Ready, Set, Pray! Children's Liturgy of the Word @ Home video series has been created to provide an engaging space for families to encounter Jesus through the Sunday gospel.
Each week includes an invitation for families to create and gather in their own prayer space, to sing, hear the Gospel, pray and respond creatively through an activity.
The series consists of 10 weekly sessions of 15-20 minutes duration, commencing Sunday 18th October and continuing each Sunday until Christmas. We hope this experience of gathering for prayer will encourage families in this time when they cannot gather for parish celebrations of Eucharist.
Produced by Proclaim: The Office for Mission Renewal.
Looking for ideas for this weekend's Gospel topics to discuss at home with the family?
Perhaps this link below may help…..
Windows
Is an uplifting story of how humanity has pulled together during the Coronavirus pandemic.
Written from Patrick's own experience of having to leave the family home due to his son's Duchenne Muscular Dystrophy, Windows shows how five kids from different parts of the world connect and draw strength from their communities from behind the safety of their own windows.
Heartwarming, hopeful and surprisingly funny, Windows will resonate with families all over the world and become a valuable time capsule of what life was like in 2020.