Please feel free to download and use these weekly
worksheets with your children at home.
Please click below to Download/Print/View
Worksheets with the Gospel
September
October
Gospel
Mark 9:38-48
A reading from the holy Gospel according to Mark
John said to Jesus, 'Master, we saw a man who is not one of us casting out devils in your name; and because he was not one of us we tried to stop him.' But Jesus said, 'You must not stop him: no one who works a miracle in my name is likely to speak evil of me. Anyone who is not against us is for us.
'If anyone gives you a cup of water to drink just because you belong to Christ, then I tell you solemnly, he will most certainly not lose his reward.
'But anyone who is an obstacle to bring down one of these little ones who have faith, would be better thrown into the sea with a great millstone round his neck. And if your hand should cause you to sin, cut it off; it is better for you to enter into life crippled, than to have two hands and go to hell, into the fire that cannot be put out. And if your foot should cause you to sin, cut it off; it is better for you to enter into life lame, than to have two feet and be thrown into hell. And if your eye should cause you to sin, tear it out; it is better for you to enter into the kingdom of God with one eye, than to have two eyes and be thrown into hell where their worm does not die nor their fire go out.'
Understanding the Gospel this week
Mark 9:38-48
Focus:
How good is it to belong? How sad it is when we are not included.
In today's gospel reading, Jesus informs us that 'anyone who is not against us is for us'. We listen and we learn that the Holy Spirit may act in and through anyone. God has given no one person or group an exclusive right to use his name. We, as people of God, should be glad of this.
Discuss with your children:
In today's gospel the disciples tried to stop someone doing miracles in Jesus' name. Has anyone ever made you feel bad because you were doing something good?

How did that make you feel? Was it confusing? How did you decide what to do?

Jesus said that anyone who is not for him is against him. How can you show that you are for Jesus?

When you do good deeds, is it because you are a follower of Jesus or because you might get a reward?
We pray that we will be loyal followers of Jesus.
Parents Notes:
Just how early in our life did we all learn this valuable lesson on inclusion and how do we apply it in our relationships with others?
Help your child/ren to understand that Jesus wants us all to be members of his family, and that it is not for us to exclude any person. Invite your child/ren to practise acts of kindness this week. Can we, as adults, join them? Can we, as adults, truly put into practice what we have asked our child/ren to do?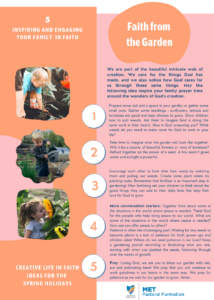 School Holiday Idea
'We are all part of God's wonderful Creation'
Plant a Spring Garden with your child/ren and allow conversation to take a natural journey through the wonder and inspiration of God's creations in nature.
Encourage your child/ren to see God in the everyday, the simple joys of life and in their own creation.
Children's Gospel Reflection
Throughout the school terms, our Parish schools give us an insight into how the children understand each weeks Gospel reading. Enjoy with us, understanding Christ through the innocence of our children.
Term 4 of 2021 we look forward to hearing from our children at St Charles Borromeo Catholic Primary School
and their understanding and thoughts on the Gospel each week.
Thank you to St Kevin's Catholic Primary School for Term 3 reflections each week.
Please view by clicking on each reflection.
We look forward to St Charles Borromeo's Children's Gospel Reflections in Term 4.
Term 3 reflections form St Kevin's PS
Looking for ideas for this weekend's Gospel topics to discuss at home with the family?
Perhaps this link below may help…..
For our young children 1-5 years of age, this lovely book preview shows 10 simplified Old Testament stories for children, including Creation, Noah and the Ark, Abraham, Joseph, Ruth, Samuel, David and Elijah.