Please feel free to download and use these weekly
worksheets with your children at home.
Please click below to Download/Print/View
Worksheets with the Gospel
December
January
Junior worksheets
December
January
Children's Gospel Reflection
Throughout the school terms, our Parish schools give us an insight into how the children understand each weeks Gospel reading. Enjoy with us, understanding Christ through the innocence of our children.
and their understanding and thoughts on the Gospel each week.
St Kevin's Class
3/4M

and

5/6C
"…for nothing is impossible to God"
Classes 4/5M and 5/6C reflected on the Gospel reading Luke 1: 26-38 and talked about Mary's role and how Nothing Is Impossible when dealing with God.
The students wrote about events which they thought were impossible but in which they succeeded.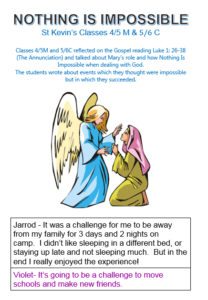 Gospel
Lk 1:26-38
A reading from the holy Gospel according to Luke
You will conceive and bear a son.
The angel Gabriel was sent by God to a town in Galilee called Nazareth, to a virgin betrothed to a man named Joseph, of the House of David; and the virgin's name was Mary. He went in and said to her, 'Rejoice, so highly favoured! The Lord is with you.' She was deeply disturbed by these words and asked herself what this greeting could mean, but the angel said to her, 'Mary, do not be afraid; you have won God's favour. Listen! You are to conceive and bear a son, and you must name him Jesus. He will be great and will be called Son of the Most High. The Lord God will give him the throne of his ancestor David; he will rule over the House of Jacob for ever and his reign will have no end.' Mary said to the angel, 'But how can this come about, since I am a virgin?' 'The Holy Spirit will come upon you' the angel answered 'and the power of the Most High will cover you with its shadow. And so the child will be holy and will be called Son of God. Know this too: your kinswoman Elizabeth has, in her old age, herself conceived a son, and she whom people called barren is now in her sixth month, for nothing is impossible to God.' 'I am the handmaid of the Lord,' said Mary 'let what you have said be done to me.' And the angel left her.
The Ready, Set, Pray! Children's Liturgy of the Word @ Home video series has been created to provide an engaging space for families to encounter Jesus through the Sunday gospel.
Each week includes an invitation for families to create and gather in their own prayer space, to sing, hear the Gospel, pray and respond creatively through an activity.
The series consists of 10 weekly sessions of 15-20 minutes duration, commencing Sunday 18th October and continuing each Sunday until Christmas. We hope this experience of gathering for prayer will encourage families in this time when they cannot gather for parish celebrations of Eucharist.
Produced by Proclaim: The Office for Mission Renewal.
Looking for ideas for this weekend's Gospel topics to discuss at home with the family?
Perhaps this link below may help…..
For our young children 1-5 years of age, this lovely book preview shows 10 simplified Old Testament stories for children, including Creation, Noah and the Ark, Abraham, Joseph, Ruth, Samuel, David and Elijah.